Fusion Pilates Asheville is working in collaboration with Balanced Body on an important program they have initiated. The Community Expansion Scholarship Program offers scholarships for students to take the Balanced Body® Comprehensive Pilates Instructor Training.
FusionPilatesEDU.com welcomes scholarship students from this program to trainings in our brick and mortar studio in Asheville, NC and also provides all awardees free access to our Online Apprentice Program. You can find information on our Balanced Body program here.
Find this information directly at: diversityinpilates.com/scholarship
---
Community Expansion Scholarship Program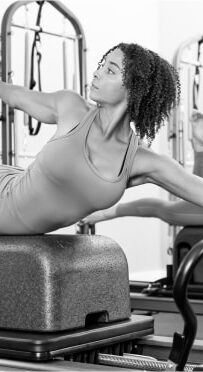 The goal of the Balanced Body Community Expansion Scholarship Program is to increase the diversity of the Pilates profession by training teachers who come from Black and other underrepresented communities. Balanced Body Authorized Training Centers around the country and around the world are participating in this program by providing full scholarships to qualified students.
PROGRAM GOALS:
To bring more Black instructors into the Pilates community, increasing the rich tapestry of experiences and perspectives in the industry
To support Black instructors as they develop their teaching practice
To bring the benefits of Pilates to the Black community by supporting teachers from the community
Authorized Training Center Scholarship Guidelines PDF (Download)
Scholarship Application PDF (Download)
Email your completed application to helene.rothman@pilates.com.
View Participating Authorized Training Centers