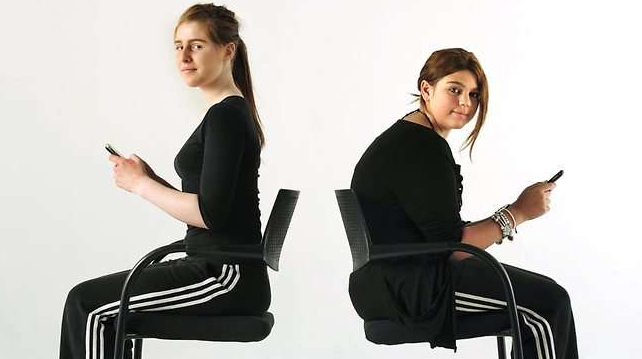 When I was a kid, my mom always nagged me about sitting up straighter. After starting my Pilates practice, I gained ¾ of an inch in height. However, when I see myself in photos and videos, I am still aware that I have some more work to do on my forward head posture. My chiropractor also points this out. How can it be so hard?? Turns out my Mom was right. The way we sit, stand, move, and rest as children has the capacity to shape our spines for the rest of our lives. Letting your kid slump over an ipad on the couch may seem harmless now, but more and more health and wellness professionals are starting to view bad posture as a modern health crisis.
What are the effects of poor posture on our kids and teens? I'll name a few that I have seen firsthand. I have witnessed teenagers call in sick to work due to back pain. I see kids who don't sit up straight, but even worse – THEY DON'T KNOW HOW, even when I ask them to do it. It is amazing – I have to manually cue children into better posture, because their body has no memory of it. It affects them as athletes as well. Many kids and teens struggle to approach their athletic potential because their ability to generate power through movement is limited by poor structural mechanics.
But enough about the problem. How can we help our kids avoid the emotional, psychological, and financial strain of posture problems down the road?
Teach your kids how their body is put together. They will think this is cool! Primarily – kids should be able to identify their pelvis and the natural curves of their spine – then you could take their picture and help them see if their natural standing and sitting positions look "neutral."
Minimize screen time. There are SO many reasons to do this and posture is just one of them. Make sure the screens they do use are set up correctly. (some good tips here from Wikipedia – http://www.wikihow.com/Sit-at-a-Computer) Movement Instructors will can also get some great tips here from Casey Marie Herdt – http://fusionpilatesedu.com/courses/workshops/computer-posture/.
Maximize active time. Sports are great, and in particular I believe that martial arts and dance are the best teachers of body awareness because they require such fine-tuned movement. Supervised rock climbing at a gym is great too! Also, encouraging outdoor play time where kids are moving and resting without couches, chairs, or screens, will help them to naturally develop core strength and awareness.
Teach your kids the difference between the "core" and "abs." Strong abs are fine, but the core muscles are not necessarily worked through sit ups and push-ups. Trying to sit up straight in a chair with no back is one of the best core strengthening activities your kids can do! For even more of a challenge, have them hold their plank position with neutral spine and pelvis.
Have them balance something on their head. I know this sounds old school, but I do it myself and it works. Even after I take the object away, my posture muscles are activated and functional.
Help them understand why posture is important. Good posture is not just healthier, it's more attractive. Poor posture communicates social vulnerability and can unintentionally make your kids and teens targets for bullies. Standing and sitting tall will not only project a message of confidence to others, it will literally keep them safer. When your child walks around with their head up and their eyes on the horizon, they will notice their surroundings and have more time to react to potential dangers such as cars or strangers.
Note: In addition to teaching Pilates at Fusion, article author Elizabeth Goyer has been training in Traditional Tae Kwon Do at Asheville Sun Soo for 9 years, and teaching Tae Kwon Do to kids, teens, and adults for 7 years. She is formally trained and certified by Master Tony Morris of Asheville Sun Soo.
Click HERE to schedule with this instructor.
Click HERE to take classes with this instructor.