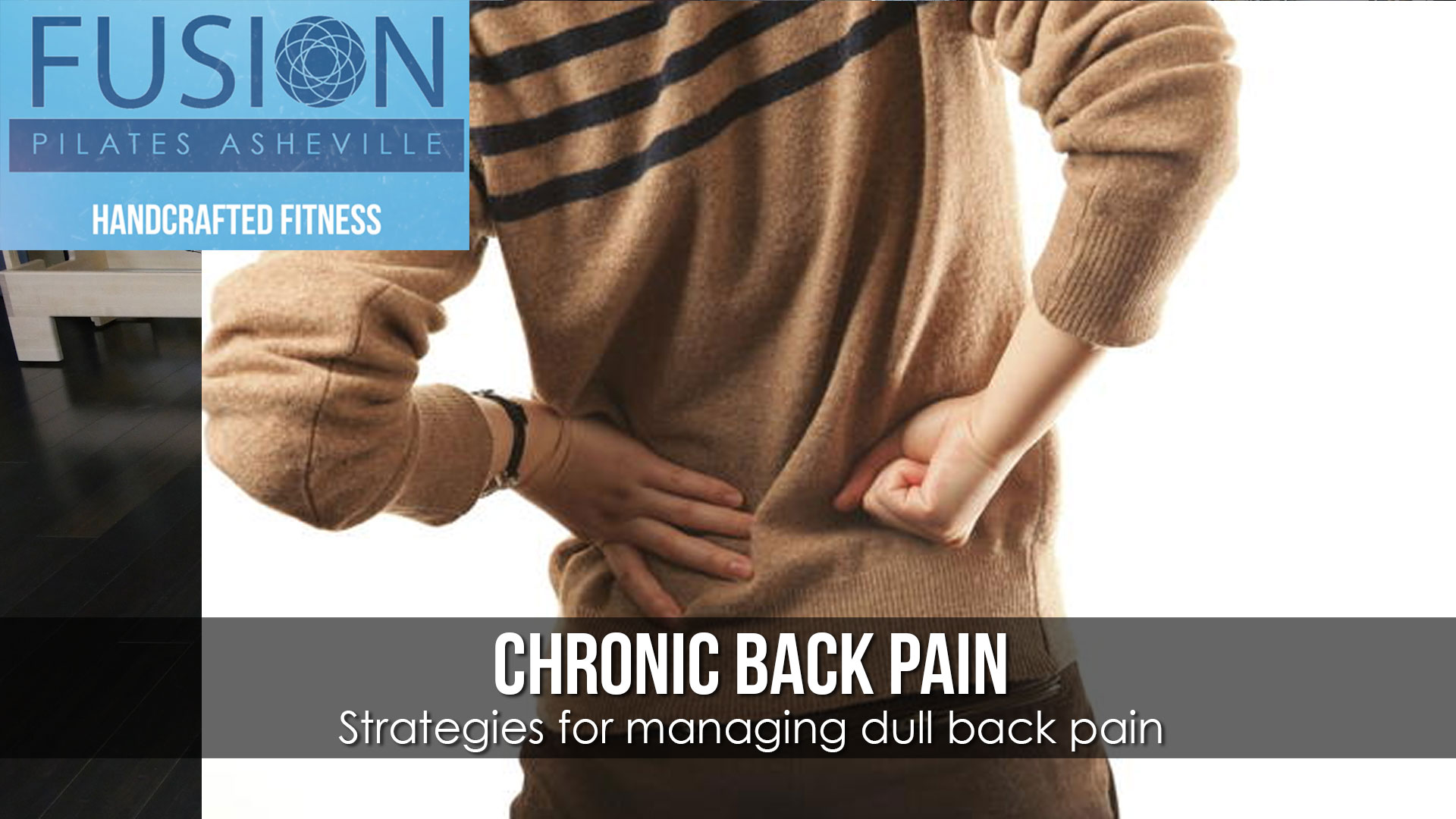 Elizabeth Goyer from Fusion Pilates Asheville discusses strategies for managing dull back pain…
Around 80% of American adults experience chronic back pain at some point in their lives…and although an internet search will tell us that "unhealthy" people are most affected, I think it's fair to say that back pain affects many people regardless of how healthy they are. The modern lifestyle of chairs, screens, and cars sets us all up for back problems.
It affects us earlier than we expect as well. Back pain can affect people in their 20s and 30s, in addition to those in their 40s. Lucky for me, back pain brought me to Pilates! Pilates is full of great preventative tips, but no one is perfect and sometimes we need to manage pain that's already happened. With the broad scope of this topic in mind, I want to offer some ideas based on my own experience.
For a dull flare up (pain level 1-3).
Check in with your overall health – hydration, diet, sleep, stress, posture. Identify at least one "low hanging fruit" in each category and make a change. For example – if my low back flares up, I might drink a glass of water or herbal tea, eat something anti-inflammatory, set a strict bedtime that allows at least 8 hours of sleep, get something done on my list, plan something fun for the next day, and go for a gentle walk.
Scan for tension and do some release work. Key spots that help reduce back pain are often the feet, hips, pelvic floor, pectorals, and IT band. There may be many more depending on your specific tension patters. Listen to your body and do gentle release work where you feel called. Do not go too hard.
Use heat. Connective tissue cannot reorganize when it's too cold, so some heat in tense areas may help immensely. I cannot recommend Marie Jose Blom's Smartspine products enough.
BREATHING. Any of your pre-Pilates breath exercises will be awesome here. Find a position that's comfortable for you and make sure you are well propped before you begin. I suggest seated or supine. Use your breath, in conjunction with heat, to help you unravel tension.
Schedule a private session with your Pilates teacher to help get yourself back on track.
Stay tuned for part 2, where I will discuss some strategies for coping with more serious back injuries!
Click HERE to schedule with this instructor.
Click HERE to take classes with this instructor.