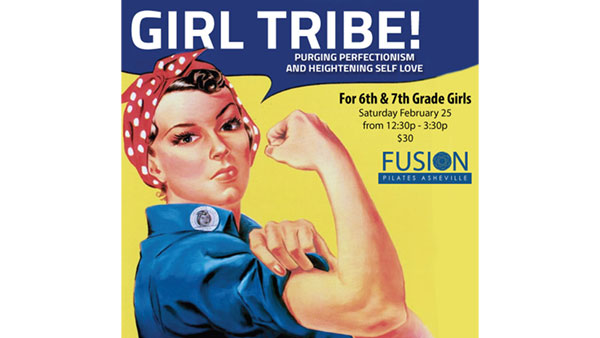 A special class for 6th & 7th grade girls.
Saturday, February 25, 2017
From 12:30 – 3:30pm
$30.00
* Workout While Walking: Heavy backpack strategies.
* Movement and Release Class: Exercises to keep the body balanced.
* Real Beauty Vision Boards: Arts & crafts to purge perfectionism
* Self Care Rituals: Daily practices to take home
please use your daughter's name when signing up….
Twelve to fourteen are pivotal years for girls. They are just starting to dip their toes into womanhood but they are still very much girls. Wild, creative, community oriented, fun loving, and tender. At Fusion we pride ourselves at being the top of the game on Women's health, well-being and fitness in Asheville. The biggest and most important piece of this is educating girls and young women. Our mission is to give them tools to stay empowered, outspoken and to have the courage to always Lean In! At Fusion we believe that movement paired with a deep understanding and communication with the body (that means knowing how to take very good care of yourself) is how one stays not only physically balanced but more importantly how one stays mentally, spiritually and energetically balanced and tuned. When a girl receives this knowledge and ability to honor, appreciate and truly take care of her body she has received a gift for a lifetime. We hope your 6th and 7th grade daughters will join Casey and Jen for an amazing day of play, learning and lots of fun.
If you have a daughter but she is not in 6th or 7th grade and you really wish she could come to this …let us know. Casey and Jen want to provide a day like this one to every grade and more is in the works. So let us know if you are interested.