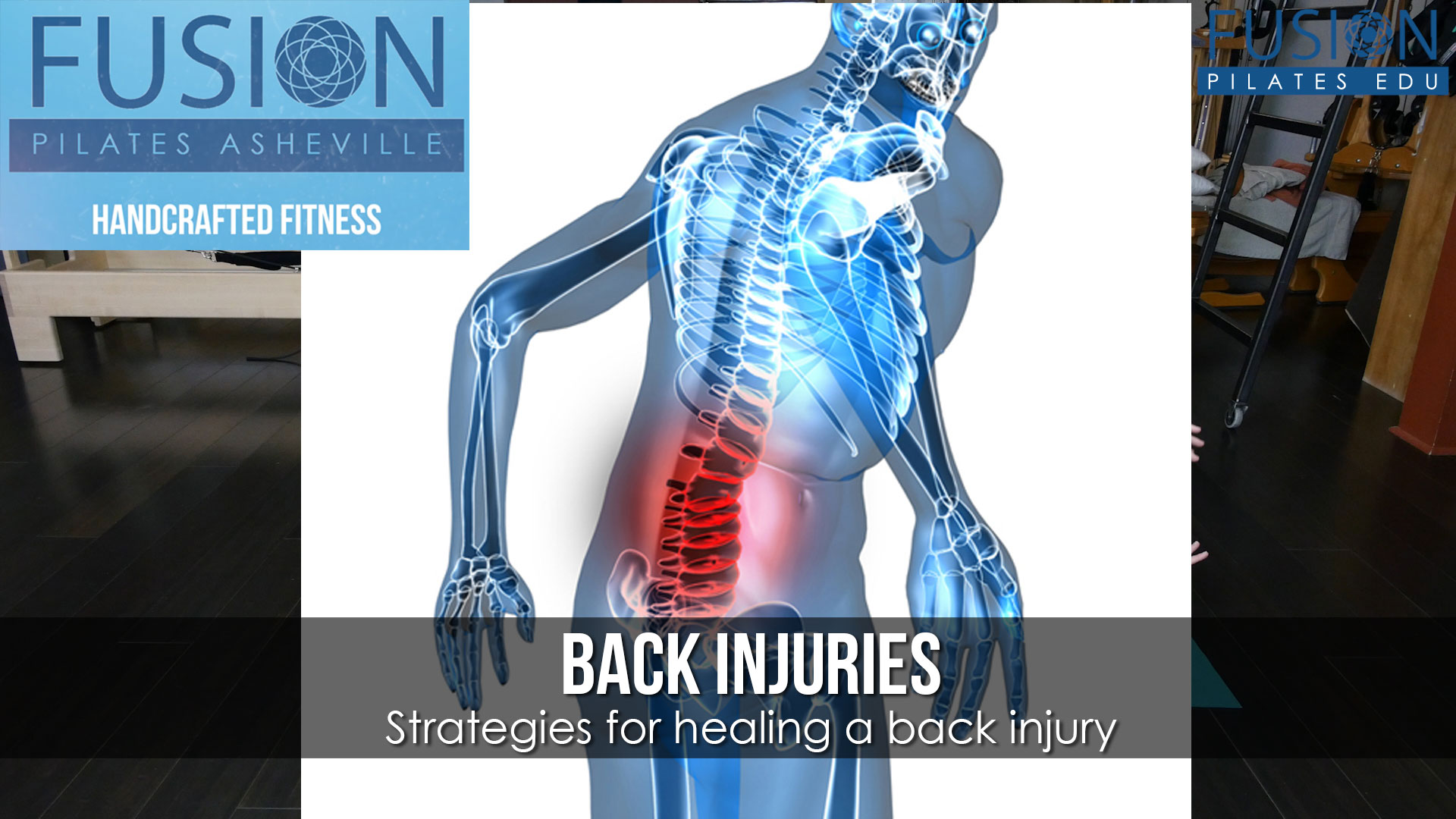 Fusion Pilates Asheville's Elizabeth Goyer discusses strategies for healing a back injury…

A month ago, I posted a blog article about managing dull back pain flare ups. I find those strategies very useful for low level pain. However, I suffered a severe back injury years ago, and I wish I had known how to handle it effectively. Instead, I cared for it poorly and reinjured it 6 months later. As they say, hindsight is 20/20. So if you or someone you know has recently suffered a back injury, consider these tips, which are based on my personal experience.
For a more intense, acute back "injury" (pain level 5 or higher)
DON'T try to "FIX IT." I know it's tempting, but trying to adjust yourself or have someone "crack your back" is going to do more damage in the long run (and likely the short term as well).
Go see a trusted health care practitioner. Back injuries are serious and you should treat them as such. I do not personally recommend going to a chiropractor who uses a rough style of adjustment, but every injury is different and you should do what you think will work.
Check in with your overall health – hydration, diet, sleep, stress. Identify at least one "low hanging fruit" in each category and make a change. For example – if my low back flares up, I might drink a glass of water or herbal tea, eat something anti-inflammatory, set a strict bedtime that allows at least 8 hours of sleep, get something done on my list, and plan something fun for the next day.
Ask for what you need. You may not be able to go to work safely. You may not be able to drive. Get help. Almost everyone has experienced back pain and knows how debilitating, frustrating, and distracting it can be. You will be supported by people who care about you and understand.
Consider using a cold pack at a therapeutic temperature (not ice cubes) to help reduce swelling immediately following the injury. Although OTC drugs like Ibuprofen and Naproxen Sodium are controversial, and definitely not safe for long term use, they may be useful in the short term if you can tolerate them. I believe that reducing the pain is really important because it will help your stress hormones go down, which will help you heal faster.
Take your time with your recovery. Don't try to set a "better by" date – this will often lead to disappointment, especially if your subconscious is having trouble trusting you to be safe with your body! Gently rebuild trust between you and your body by making smart decisions that have you feeling a little better each day. With back injuries, it is OK to play it safe!
Shop around for a good PT. Physical therapists can be a crucial component in your recovery, or they can feel like a waste of time and money. Do a couple sessions with 2-4 different people, and see whose approach resonates the best with you and your body. Your PT should be experienced with your specific type of injury and excited about working with you. They should also take their time and supervise you with as much attention to detail as your Pilates teacher.
Click HERE to schedule with this instructor.
Click HERE to take classes with this instructor.